Looking for some innovative and useful garden gadgets to help with your outdoor projects? Look no further than this list of the 10 best garden gadgets you didn't know you needed! From robotic lawnmowers to sifter shovels, these gadgets will make your gardening and landscaping tasks easier and more efficient. Each gadget is described in detail, including its features, benefits, and price point. Whether you're a seasoned gardener or a beginner, these gadgets will help you take your outdoor projects to the next level. So, get ready to transform your garden with these must-have gadgets!
1. Rotoshovel Max
Price: $149
Rotoshovel is not just another shovel; it is the ultimate refinement of mankind's oldest tool," explain the creators of the Roto shovel. "Max this seven-kilogram product allows you to quickly and easily dig holes 48 centimeters deep and 10 centimeters in diameter. It's also the smoothest and safest automatic shovel you can find. If you hit a stone, the engine automatically shuts off, and the reverse function will help you pull out a jammed auger. One charge is enough for several hours of work. The batteries are easy to change and can be recharged in two hours. Installing a fence, preparing holes, digging – now you don't have to spend the whole weekend on it because the work will go twice as fast. You can get a set of a shovel and a pair of safety gloves for 149 dollars.
2. Makita UB0002C
Price: $….
Next, a Backpack Blower from Makita. This Japanese company once invented the world's first electric planer, and today, it's one of the world's largest manufacturers of power tools with more than 350 types of products. So, this blower is also great. For about eleven hundred dollars, customers get cruise control, a powerful but quiet engine equivalent to a 50cc gasoline engine, speed control, overload protection, and 45 minutes of operation at maximum load. The handle can be placed on both left and right sides. Additionally, it's adjustable in height, and thanks to the fact that the battery has moved to the back, the user's arms are less tired. This model will finally blow gas blowers into the corner, noted one user.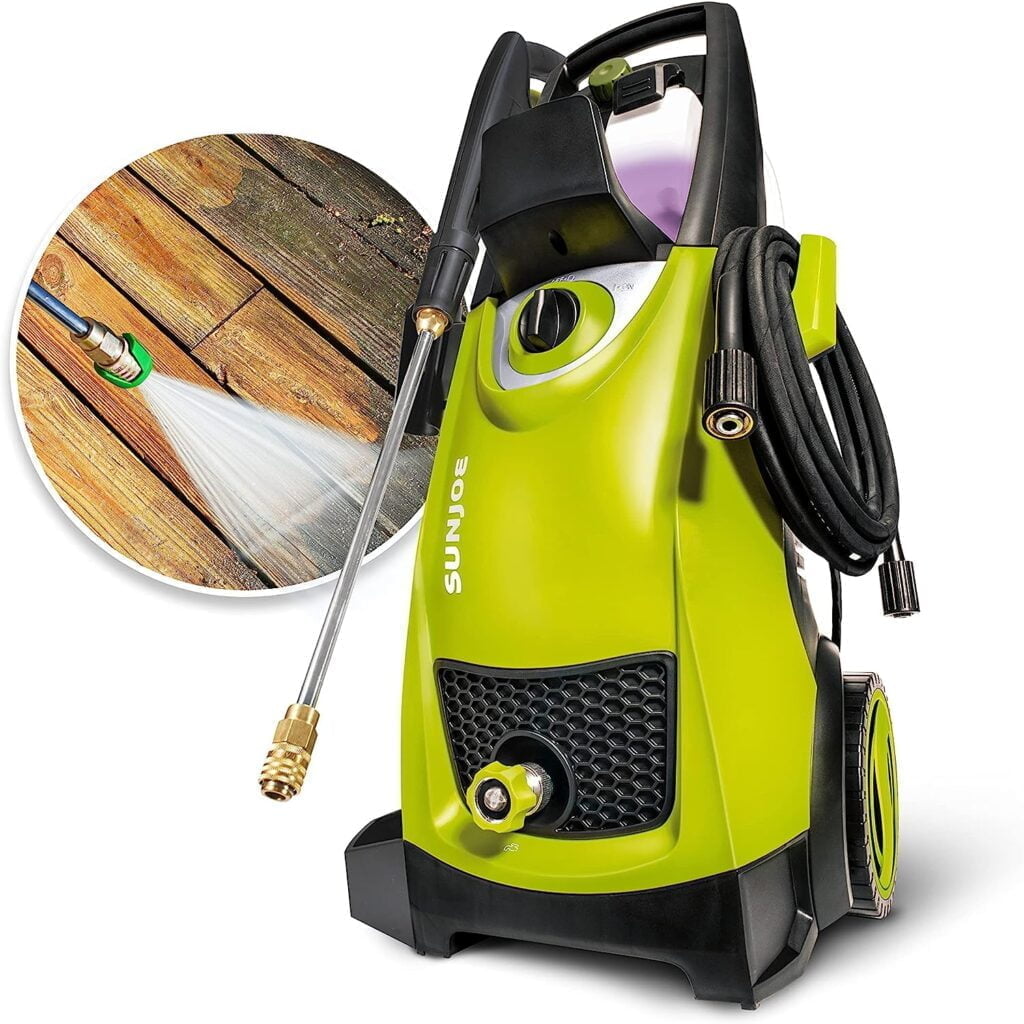 3. Sun Joe's 24V-HCS-LTE-P
Price: $169
A handheld chainsaw that will help you in the garden. One of its strengths is its compactness. The saw only weighs two and a half kilograms and is suitable for one-handed operation. But don't think it's a toy. This chainsaw can handle branches up to 11.5 centimeters in thickness and is also suitable for cutting boards and plywood. The 230-watt brushless motor cuts cooler and quieter than the competition, and the manufacturers have also simplified maintenance and built-in some safety options. No more tangled cords or wrestling with heavy gas chainsaws, they note. And the Ion Plus batteries are interchangeable and fit more than a hundred tools from the same brand. The price is also reasonable, 169 dollars.
4. H2OWize Water Ring
Price: $50
According to its manufacturer, this ring water supply and storage system is revolutionary. It's suitable for both private and commercial applications, saving water and therefore money. Two versions are available: a small one, 51 centimeters in diameter with a flow of 38 liters per hour, and a big one, 63.5 centimeters in diameter with a flow of 57 liters per hour. All rings are made of recycled plastic with 45 teeth locking them in place. One of the additional advantages is the capture and storage of rainwater to prevent soil erosion. The price for the larger version starts at 50 dollars, and from every ring sold, the company donates money to planting trees.
5. Gardena Automatic Water Distributor
Price: $94
A big garden needs a lot of watering, but hoses, sprinklers, and other systems can be very time-consuming. Gardena has tried to make life easier for gardeners. Not in vain, this company is famous for its excellent gardening equipment and is represented in more than 120 countries. This water dispenser, combined with a mini-computer, allows you to water up to six garden areas in any chosen order. For example, you can start with the beds and finish with the lawn. The settings are endless, watering from one minute to four hours on six independent schedules, adjustments of the watering duration in 10 increments depending on the weather, and compatibility with soil moisture sensors. If the soil has enough water, irrigation will not turn on. The system is produced in Germany. The price is about 109 dollars for the computer and 94 dollars for the dispenser.
6. STARBERRY MD2
Price: $……
Did you know that there was once a blueberry crisis in the United States? The demand skyrocketed, the supply was limited, and the situation became so tense that some media compared it to drug cartel wars. No wonder, as market sales grew to 50 million dollars. So, you have to pick blueberries quickly but carefully, and this tool is perfect for that. The description says that it has revolutionized the world of blueberry picking. No more manual work, it weighs about 700 grams and doesn't demand any special skills. Take it, put it on a branch, and switch it on. The speed can be adjusted from 600 to 2,000 strokes per minute, and the number of berries obtained is three times greater than when picking them by hand. And, three batteries in the set are also a nice addition.
7. Gloria FineCut
Price: $……
Ordinary or robotic lawnmowers are great, but sometimes they cannot reach the grass in certain areas such as under stairs, near flower beds, garden furniture, and fences. In such cases, trimmers are a great solution. The cordless model shown on the screen features a double-blade system for a golf course-like finish and offers 60 to 90 minutes of run time on a single charge. By the way, if you have any tool with the Bosch 18V Power for All system, its battery will also fit the trimmer. The handle angle of the model is adjustable, and its cutting width is 25 centimeters, allowing you to work with the trimmer close to fences, curbs, and other obstacles.
8. Mud Sifting Square Shovel 29 in. Handle
Price: $……
Shovels have been used to do all kinds of things, like conquering ramps or playing music, but all of that pales in comparison with this sifter shovel. The creators are sure that this shovel will be useful not only for gardeners and landscapers but also for baseball field staff. The design is very simple, with a 69-centimeter handle and a 14 by 17-centimeter blade. It weighs 1.8 kilograms. Surprisingly, there is a big demand for it, even at $109. The product is already sold out on one website, so they offer to pay and wait until about October 15th.
9. Gardena 3195-20
Price: $……
A manual guard and cultivator that can perform several tasks like pulling small weeds, loosening the soil, and breaking up clods. The cultivator can be mounted on a 150 cm long handle, and it has four specially shaped starred wheels that are galvanized. It also offers an optional weed control frame, which is easy to remove, and it fits all Gardener Combi system handles. The price of the product is 66, and if registered on time, the purchase comes with a 25-year warranty.
10. Wolf-Garten 71ANA013650 Gutter Cleaner
Price: $……
An incredibly accurate observation from Germany: Autumn leaves and dirt from the roof sooner or later clog almost every gutter. So, what can you do if you don't have a ladder? One option is to pay $105 for this German tool. It consists of two pieces, a brush and scraper attachment, and a height-adjustable handle that reaches about 5.5 meters. Thanks to the multi-star system, the handle can be used with other heads from the same manufacturer. If you buy the whole arsenal, you get 15 handles and more than 70 tools for soil treatment or pond cleaning. The working angles of both the scraper and the brush are adjustable. A nice bonus is the 35-year warranty.
Conclusion
Having the right garden gadgets and tools can make gardening a more efficient, enjoyable, and rewarding experience. From robotic lawn mowers and cordless trimmers to manual cultivators and gutter cleaners, the range of products available is vast and can cater to the needs of every gardener. By investing in high-quality tools, gardeners can save time and effort, and ultimately achieve more beautiful and thriving outdoor spaces. So, whether you are an experienced gardener or just starting, consider adding some of these useful garden gadgets to your collection to enhance your gardening experience.