I am Abrar Khan, and I'll be sharing my in-depth review Kindle Scribe by amazon, As an avid reader and tech enthusiast, I've been eagerly waiting for a Kindle that allows note-taking, and finally, the Kindle Scribe has arrived. In this Kindle Scribe review, I'll discuss the design, user experience, display, note-taking capabilities, and more.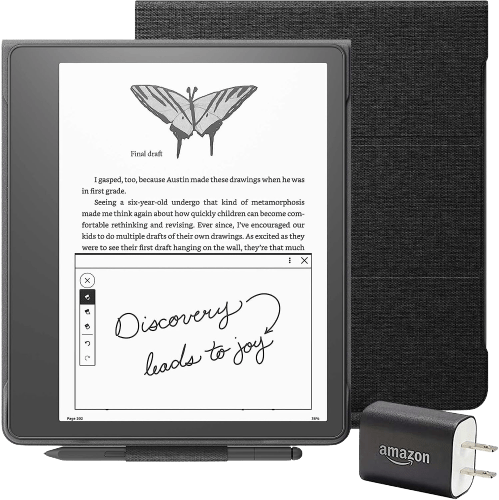 Kindle Scribe Essentials Bundle including Kindle Scribe (64 GB), Premium Pen, Leather Folio Cover with Magnetic Attach
Design
It bears a striking resemblance to the Kindle Oasis but with notable differences, Apart from its larger size, the Scribe lacks physical page turn buttons, and instead features rounded corners and smoothly curved edges. The wide, flat back of the device includes four tiny pads on each corner, providing extra grip and preventing it from sliding on flat surfaces. The bezel surrounding the display is reminiscent of the Oasis, with a larger edge on the left side for easy right-hand holding. The USBC port and power button are conveniently located on the side of the device near the middle. The pen, which comes included with the Scribe, attaches magnetically to the side, While the magnetic attachment is decent, it's not as strong as other devices like the iPad with the Apple Pencil. However, with the leather folio case, you can securely insert the pen into the dedicated loop. Though I personally find the loop unappealing, it serves its purpose. Despite its size, the Kindle Scribe remains comfortable to hold and use, making it a suitable option for extended reading sessions.
Display
If you're searching for a Kindle with a large screen to enhance your reading experience, the Kindle Scribe is a fantastic choice. With its 10.2-inch display it offers ample space for bigger fonts and larger images. It's important to note that the Scribe comes with a hefty price tag. The screen size surpasses that of the Oasis, which has a seven-inch display, without compromising the fantastic pixel density. As a result, text and images appear sharp and crisp, enhancing readability. If you've been longing for a larger e-reader, the Kindle Scribe won't disappoint.
Note-Taking
While the Kindle Scribe provides a dedicated area for notebooks and offers multiple templates for note-taking, it falls short when it comes to note-taking within books. The Scribe allows you to write notes as sticky notes, but you can't write directly on the book itself or in the margins. This limitation is a disappointment for readers who desire a more interactive note-taking experience. Additionally, the Kindle Scribe lacks pen customization options beyond thick or thin, which other e-reading tablets offer. Amazon's failure to provide these features is particularly surprising given the late entry of the Kindle Scribe into the digital note-taking device market. On a positive note, writing on the Scribe with the included stylus feels smooth and satisfying, and the device offers a selection of notebook templates.
User Experience
It's crucial to understand that the Kindle Scribe is primarily an e-reader with note-taking capabilities, rather than a note-taking device with e-reading features, this distinction becomes clearer as we explore its functionalities further.
Who Is It For?
The Kindle Scribe caters to those seeking a larger e-reader with basic note-taking capabilities, with its 10.2-inch display, it offers an expansive reading experience, and the battery life appears promising, comparable to that of the Kindle Paperwhite. However, it's important to bear in mind that the Scribe is not a productivity tool. While it allows you to import and write on Word documents and PDFs, marking up files with large tables can be challenging, Additionally, the lack of compatibility with cloud-based storage platforms like Dropbox or Google Drive presents a hindrance when accessing stored documents. Furthermore, the Kindle Scribe is not water-resistant, so caution is necessary to protect it from spills or splashes.
Limitations
Despite its impressive size, the Kindle Scribe fails to offer a two-column view when holding the device horizontally, a feature commonly found in tablets that enhances the reading experience. This absence is puzzling, considering the potential advantages of utilizing the larger screen. Amazon must address these limitations through software updates to justify the device's high price.
Conclusion
In conclusion, the Kindle Scribe presents an attractive option for those seeking a large e-reader with basic note-taking capabilities. It boasts a beautiful display, seamless pen functionality, and comfortable ergonomics. However, Amazon must make significant improvements to justify the device's price tag fully. While I thoroughly enjoy reading books on the Kindle Scribe, I'm hesitant to recommend it to everyone. Perhaps with future software updates, Amazon will address the device's shortcomings and enhance its overall usability.
FAQs
Can I write directly on books with the Kindle Scribe?
No, the Kindle Scribe only allows you to write notes as sticky notes, rather than directly on the book or in the margins.
Is the Kindle Scribe water-resistant?
No, the Kindle Scribe is not water-resistant, so it should be protected from spills or splashes.
Can I use cloud-based storage platforms like Dropbox or Google Drive with the Kindle Scribe?
Unfortunately, the Kindle Scribe cannot connect to services like Dropbox or Google Drive, making it cumbersome to access documents stored there.