I have been using BenQ's new LaptopBar for two weeks and it has proved to be very helpful. BenQ LaptopBar lamp supports magnetic attachment and you can control the brightness level by just simple slide and its provides 160 minutes of use on a full charge.
So in this BenQ LaptopBar Review, I am going to talk about design, setup and controls brightness and original battery performance with my user experience.
Table of Contents
BenQ LaptopBar Unboxing, and Design
Inside the BenQ LaptopBar box, we get Laptopbar Light itself and a compact battery, A USB type-c to type-c cable for charging, two magnets that attached to your laptop back and also pouch to carry the lightbar on travel and some documents.
The BenQ LaptopBar is made of aluminum alloy and polycarbonate, making it lightweight and portable. it has a magnetic structure that doesn't touch the laptop screen at all. On top of it you get a touch sensor with which you can turn it on or off by touching it. It also has a light bar indicator which shows whether the brightness level.
Setup and Controls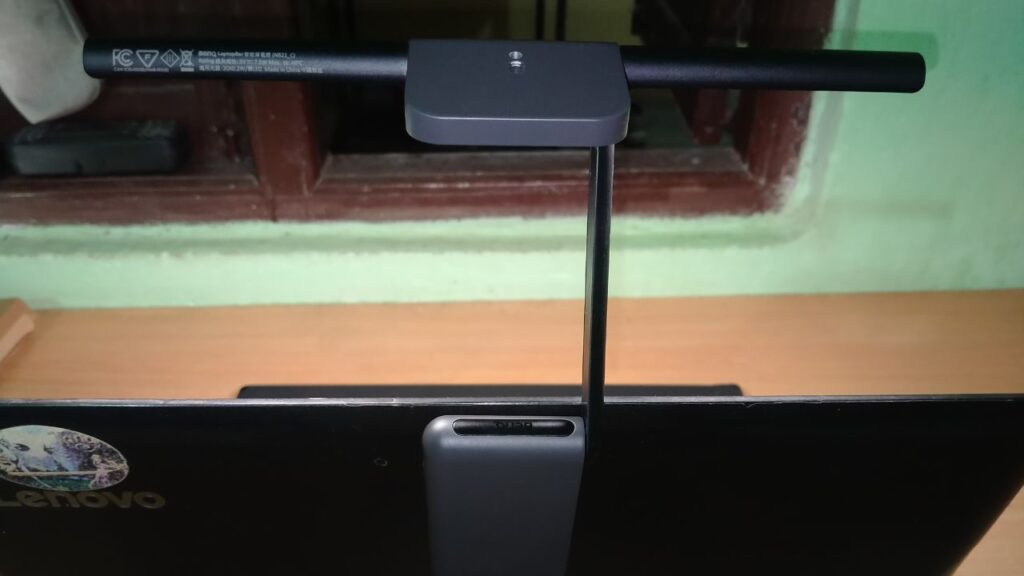 As for the setup first clean you desktop back case and then peel off magnet from the user guide that come in box, and then attached the magnet on laptop's opening hinge now setup is complete but you need to let it sit for 20 minutes. After 20 minutes first attach the battery on the magnet, then attach the lamp head to the upper end of the lamp arm. Now adjust the position of lamp body so so that the positioning groove on the upper end of the lamp body is aligned with the top edge of laptop.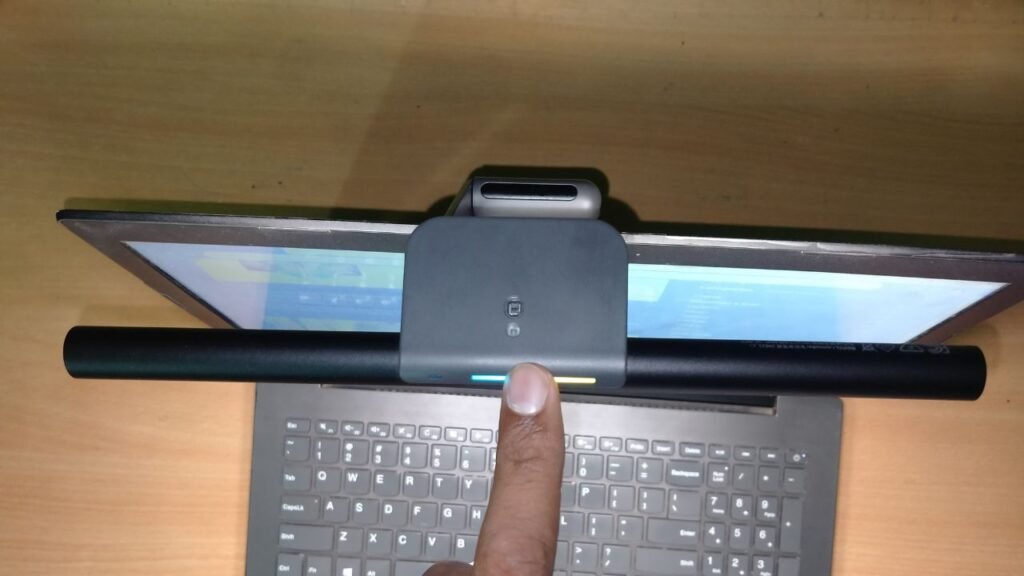 One somewhat unfortunate aspect I noticed is the lack of app support to control the lamp's brightness. But you have the sensor touch control, just wave once above the lamp head for turning on or off, slide the touch bar to the left or right to adjust the brightness level and color temperature. And Tap the button behind touch bar to switch between brightness or color temperature mode, for auto-dimming mode long-press the button for 2 seconds until itlight up in white.
BenQ LaptopBar Battery Life and Charging
The Battery design is compact it looks like a powerbank and its also has foldable stand that increase the height of lamp to stand and adjust the as you need. Battery has a USB type-c ports and 4 little led lights that indicate the percentage of battery life. When all four led light flashing is indicate the charging percentage of 100% to 75% and the 3d flashing indicates 75% to 50%, and same 2nd flashing indicates 50% to 25%, and the last one indicates %25 to 0%. Then you need to plug it using the USB type-c to type-c cable to charge it.
As it's portable laptop lamp so battery performance is need to be good. The benq claims 160 minutes on 50% brightness battery performance, but in my case when using the laptopbar with fully charge on full brightness I get 3 hours of battery performance. And when using it on 35% to 40% brightness, I get approximately 4 hours of performance. So as the BenQ claims it provide approx same battery performance that's enough to work laptop weather in office or when traveling.
My Final Thought
So after using the BenQ LaptopBar from the past two weeks, my overall experience has been highly positive. As i works from home, my home office lacks a complete lighting. When using my laptop for extended periods, the screen's light often made me feel unwell after 2 to 3 hours of work.
However, since using the BenQ lightbar into my workspace, my performance has noticeably improved. The lightbar boasts a compact and portable design with a magnetic structure that allows for easy disassembly, facilitating convenient travel.
This feature sets it apart from some other laptop bars on the market. Despite its strengths, the laptop does have some drawbacks. it only provide 3 to 4 hours of battery life performance and lacks of app support. it's starting price is $139 you get it from BenQ Official Website or Amazon.
Portable laptop lamp to work Anywhere
The BenQ LaptopBar stands out with its positive impact on work performance, compact design, and portability. However, the absence of app support for brightness control and customization. The anticipated price of $130 positions it as a competitive option in the market.