In this review, we'll take an in-depth dive into Samsung's budget-friendly mid-range smartphone, the Samsung Galaxy A14 5G. We'll explore its design and build quality, its display specifications, software performance, camera test, and the battery life. So let's dive in.
Note: In these articles we link the product and when you purchase, we earn a small commission through the Affiliate Program.
Read Also: Samsung Galaxy S21 2023 Review: Is It Still Worth It
Design and Build Quality
The Galaxy A14 5G may not be a groundbreaking update compared to its predecessor, the A13 5G. Both sport the same rear cameras and battery capacity, keeping things consistent. However, the story with the chipset is a bit more nuanced, but we'll delve into that shortly.
The most significant improvement in the Galaxy A14 comes in the form of its display. It's slightly larger and has received a boost in resolution, jumping from 720p to 1080p. Additionally, you'll notice an upgrade in the selfie camera's resolution.
In terms of design, the A14 takes cues from this year's flagship models, but it's worth noting that it's constructed using plastic rather than more premium materials. The flat back panel offers a unique vinyl-like texture, and each of the rear cameras has its dedicated bump. The slightly rounded frame provides a comfortable grip, and overall, the phone feels sturdy and dependable.
Display Quality and Specs
The A14 boasts a 6.6-inch display with a 1080p resolution and a refreshing 90 Hz rate, notable for being an LCD screen rather than AMOLED. This equates to a pixel density of 400 PPI, delivering significantly sharper visuals compared to last year's model.
While it's true that LCD screens may not achieve the deep blacks of OLED panels, the A14's display still manages to provide decent contrast. However, it's worth mentioning that color options are limited, and out of the box, color accuracy may not be spot-on.
One of the standout features of the A14's display is its 90 Hz refresh rate, which makes interactions and screen swiping noticeably smoother than the standard 60 Hz rate. To save energy, it can dial down to 60 Hz during idle periods. In terms of brightness, it peaks at a respectable 520 nits, with no additional boost available for brighter conditions.
Speakers Audio Quality and Storage
The Galaxy A14 comes with some noteworthy features. It includes a headphone jack, a valuable inclusion for those who prefer wired audio. The single bottom-firing speaker delivers both good loudness and sound quality, ensuring an enjoyable audio experience.
Unlocking the phone is a breeze, thanks to the side-mounted fingerprint reader cleverly integrated into the power button. It offers a convenient and secure way to access your device quickly.
Storage options for the Galaxy A14 are versatile, with choices of 64GB or 128GB of internal storage. Moreover, you can expand it even further using a microSD card, ensuring you have ample space for all your data and apps.
Read Also: Samsung Galaxy A14 5G US Price and Full Phone Specs
Samsung Galaxy A14 Software and UI
The Galaxy A14 runs on UI 5.0 Core, overlaying Android 13. This interface bears resemblance to what you'd find on the latest high-end Samsung smartphones but with certain features streamlined. Notably, you won't find the Bixby assistant or Samsung Pay on the A14. Nevertheless, the overall Samsung interface remains largely familiar and user-friendly. For a more detailed look at specific features, you can refer to our dedicated video, as mentioned earlier. Regarding the chipset, it's worth noting that the A14 5G is available with different chipsets, adding a layer of complexity to its hardware options.
Performance and Gaming
The Galaxy A14 offers distinct chipset options depending on your region. For instance, the Exynos 1330 chipset provides a noteworthy boost in both CPU and GPU power compared to the Dimension 700 and the previous A13 5G models. However, our A14 model in the US comes equipped with the older Dimension 700 chipset.
This chipset, while 5G-capable, offers only average performance in its price range. Interestingly, it appears that the Indian model of the A14 may offer a more enticing chipset configuration in terms of performance.
Battery Life
The Galaxy A14 5G maintains the same 5000 milliamp-hour battery capacity as its predecessor. In the case of the US variant, it excels in terms of battery life, scoring an impressive 130 hours in our proprietary tests.
While the phone is rated for 15-watt charging, it's important to note that you don't receive a charger in the box. Instead, it supports the official 25-watt Samsung charger. However, in our testing, charging the A14 from zero to just 30 percent took about half an hour, which, while not exceptionally fast, still provides a decent charging speed.
Camera Test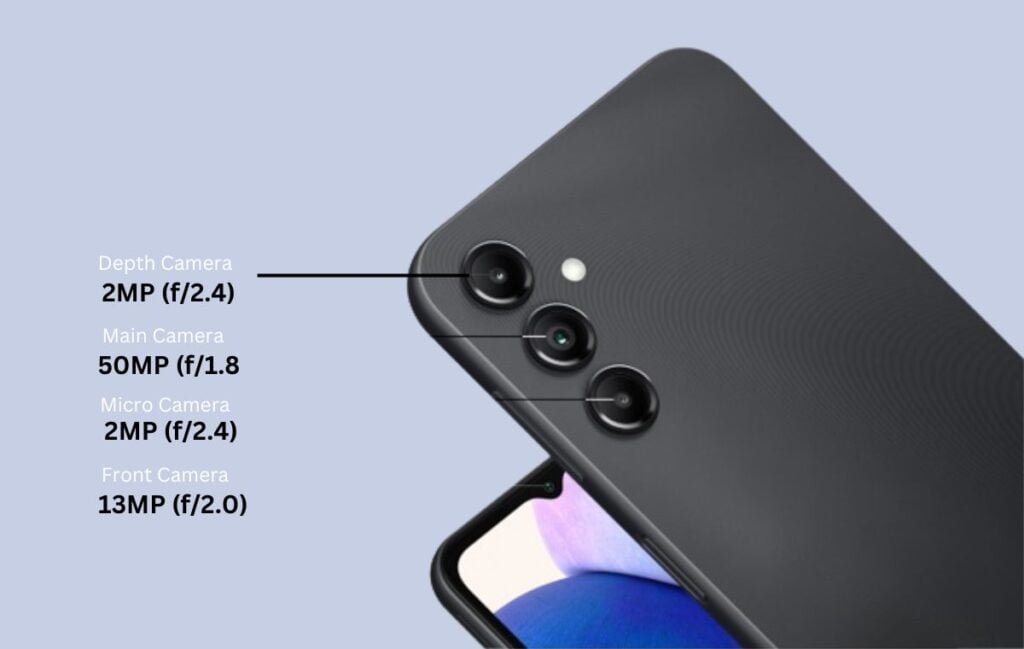 The Samsung Galaxy A14 comes equipped with a rear camera setup featuring a 50-megapixel main camera, a 2-megapixel macro camera, and a depth sensor.
Photos captured by the main camera deliver impressive results for its class. Detail levels are excellent, and contrast and dynamic range perform well. However, there's room for improvement in terms of color saturation, as the colors can appear somewhat muted, and there may be some visible noise in certain conditions.
Portrait shots, captured with the main camera, turn out well. Subject detection is reliable, and the background blur effect adds a pleasing touch to the photos.
On the flip side, close-up photos from the macro camera tend to be underwhelming. Details are lacking, and the colors come across as subdued, making them less striking than desired.
In low-light conditions, the main camera on the Samsung Galaxy A14 manages to capture shots with commendable detail and mostly accurate colors. However, there are some nuances to be aware of. Highlights in these shots can sometimes be overexposed, and while shadow areas are reasonably well-defined, they may contain noticeable noise.
Activating the night mode can significantly enhance the dynamic range of low-light photos. This mode helps to rein in overexposed highlights and restore details in light sources. However, it's worth noting that shadows may appear darker, and some heavy sharpening is applied, resulting in slightly different aesthetics. Keep in mind that each night mode shot takes approximately 6 seconds to capture.
For selfies, the Galaxy A14 offers a 13-megapixel front-facing camera, an improvement over the 5-megapixel camera found in the previous model. Selfies come out well, featuring ample detail, sharpness, accurate colors, and commendable dynamic range. While there may be some noise in selfie shots, it's not a major concern.
The Samsung Galaxy A14 allows you to record videos with its main camera at 1080p resolution at 30 frames per second. At this resolution, the videos offer nice detail, vibrant colors with good saturation, and a reasonable dynamic range.
To enhance video stability, the A14 provides electronic stabilization, which smooths out shaky footage. However, it's important to note that while stabilization helps with steadiness, it may come at the cost of some loss in detail, and you may notice heavy sharpening applied to the footage.
Final Thought
In the realm of budget smartphones, the Samsung Galaxy A14 5G stands as a commendable option. Its upgrade to a 1080p screen is a welcome improvement, and it delivers good battery life along with capable main and selfie cameras, all complemented by Samsung's software package.
It's worth mentioning that it would have been more appealing if the chipset upgrade was consistent across all regions. As it stands, consumers outside of India may find themselves with a less competitive product in terms of performance. However, if you can get your hands on the Exynos version or are not overly concerned about the chipset, the Galaxy A14 remains a viable choice worth considering.
Worth Considering Budget Mid-Range 5G Smartphone
If you're able to get the Exynos version or you just don't care about the chipset at all, the A14 could be worth considering.
User Ratings (

1

Votes)

5.2