In this article, we're taking a look at one of the best gaming headsets I've ever used. These are the 2022 SteelSeries Arctis Nova pro. They include high-res audio support, a noise-cancelling microphone, and the ability to adjust the EQ settings on the go. These are also compatible with the Playstation 5, a PC, a Mac, and the Switch.
I'll get these unboxed and set up, and then we'll go over the design, audio quality, and various features, and I'll even do a mic test.
Also Read: ASUS 42 OLED Review (2022) A Perfect Monitor
Arctis Nova Pro Unboxing
Inside the box, it comes with a manual, which we'll probably never read, and under that, we have the steel series pouch containing the headset, and on first impressions, these look and feel really nice. This is the base station, or the Game DAC Gen 2, as SteelSeries have called it. This is what powers the headset and gives us all of the controls that we need, and finally, inside this little orange box is a 3.5mm headphone cable, two USB-C to USB-A cables, and a microphone pop filter.
Nova Pro Design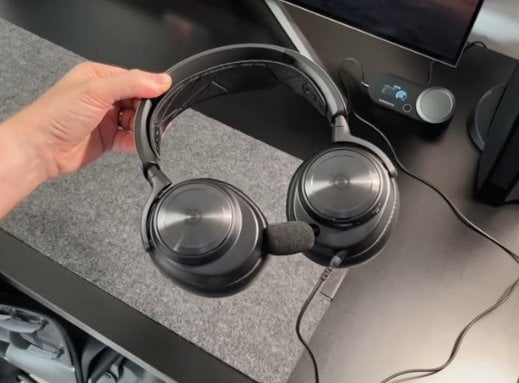 As far as the design goes, I like the look of this headset; it definitely has a more premium gaming vibe with the old black and grey style of the frame. The material of the headset is hard plastic, which feels pretty solid yet still has some flex on the inside of the adjustable headband. and this is like a silky-like material, as you can also see if you look really closely. It's got a little bit of a pattern going on here too, but I will talk more about the adjustments and the comfort in a couple of minutes.

Now something that did surprise me about this headset on first impressions is just how light they feel. but I think that's mainly due to the fact that these are wired headsets as opposed to wireless. So they don't have any batteries built in, and looking at the ear cups, these are made of fake leather or leatherette material, and they are incredibly thick and soft. This will naturally provide lots of comfort and padding when they're on your ears. They are removable too, so if you ever wanted or needed to change them, just give them a pull and they will pop right off.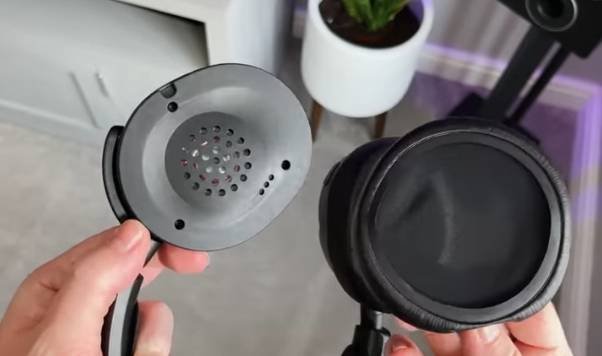 On the side of the ear cups, we've got these magnetic metal plates, which include the SteelSeries branding. Give them a twist or a pull, and they will come off. As well, for the wireless version, this is where you would swap the battery or charge it via USB, but for the wired version, these are just for aesthetics. Now these ear cups also rotate, so if you want to wear them around your neck or lay them flat on a table, you can do that without worrying about breaking the hinges.
Buttons and Controls
Now, I'm not sure if this differs on the wireless version, but there are very few buttons on the Nova Pro. Now the right side has no buttons at all, whereas on the left side they just have two, so we've got the volume wheel, which, as you guessed, is to control the volume, and this stops at the minimum and maximum.

So it's not an infinite scroll, and then there's a physical mute button for the microphone that pops in and out. It's also got an orange accent, which you can obviously see when it's muted. And finally, we have the retractable microphone, which you can pinch and pull out. This is on one of those bendy arms that you can adjust just the way that you need it. As this is a wired headset, you do need to plug the provided 3.5mm headphone jack in to use it.
Nova Pro Setup
Fortunately, setting this up is literally plug-and-play. So we take the USB cable and we plug one end into the DAC and the other end into the PS5, and as soon as it's connected, It automatically recognises a new headset, then we'll take the 3.5mm cable and plug one end into the headset and the other end into the DAC. Once that's done, it will display an on-screen guide and walk you through how to use the menu and the controls. All that's left to do is tidy it away and keep the cables out of sight.
DAC Features
As for the Game DAC itself, well, this is the brain and the power behind the setup that steel zeros have called. It is the GameDAC Gen 2, which puts it above other gaming-focused headsets with both audio quality and the features it packs. So this little box not only sends the audio from your PC or console down to the headset, but it also provides some incredible on-screen controls.

First, not only can you control the volume on the headset, but you can also control it via the metal wheel on the right. This is such an awesome feature that allows you to lean over and tweak your volume without needing to fiddle with your headset. The screen itself is pretty bright, but it does auto-dim after a minute or so; if you lean over and touch it, it will wake again. It'll also be completely switched off once you've turned your computer or your PlayStation off.
If you press and hold the wheel, you can access the menu, and from here, you're able to change the USB input if you had it plugged into two devices. Then we got the audio options, including the EQ settings and the side tone levels, as well as the system settings, which let you change the brightness of the screen and the time to wait until it automatically dims. Around the back are two USB-C ports and a line-in and line-out port.

Now that there are two USB ports, you can actually set this up with two systems at the same time, so for example, you could have this plugged into your PC as well as a PS5. Now, the model that I have here is for PC and PS3, and if you wanted to use the Xbox connectivity, you needed to buy that one. instead, although fortunately that one does work across all systems, and the line-out lets you use this for streaming or connecting to some external speakers at the same time as playing. Then, on the side, we've got the headphone port, and this is how we connect it to the headset using the 3.5mm cable.
Sound
the sound quality, and from my testing over the last couple of weeks, I can say the sound on these is really impressive; not only do they get quite loud if you crank their volume up, but the sound detail and the depth of the sound are incredible. I've been playing The Last of Us Part 1 over the last week on the new PS5 remake, and I've been blown away by just how good they sound. I really wish I could demonstrate these to you, but the background sounds and ambient noise are just awesome.

Now these Nova Pro also support 360-degree spatial audio using the sonar audio software for the PC. If you're on the PlayStation 5 like myself, where these are obviously fully compatible with the Tempest 3D audio, They are also packing 40mm drivers and including High-Res certified audio. and this essentially means that the audio resolution is even clearer, giving a purer sound than most other headsets can typically deliver. I only use headphones for online multiplayer games, so games like Call of Duty and Warzone, and that's because this is where I'll normally be chatting with my friends as well as needing to hear exactly where the enemies are now.
Over the last few years, I've had about four or five different headsets, and these without doubt are the best i've ever used, and it's not just the sound quality and the volume. but it's the directional pinpointing of the sound that has really amazed me. I was running around in Warzone, and I was able to hear footsteps from further away than I think I've ever heard. On top of that, I could hear exactly where they were, and what's great is that if I wanted to change the EQ settings for the game or mode that I was playing, I could do so on the fly, straight from the station in Warzone.

You want the mids and the highs to be slightly higher than the lows; that's for the footsteps. So starting with the focus preset is a good option, but if I swapped over to a game like Saints Row, for example, the flat preset is probably more suitable. Out of the box, I've actually found this headset to be quite bassy and punchy, which is great. but you might find you want to reduce the bass very slightly and don't use the bass boost option. For me, the bass boost option is just way too much. If you want to adjust the sound settings between game and chat mixes, you're not able to do so.
This is one of the best headset. If you're on a PC, you can control this via the keyboard by tapping and swapping between the chat and the game volume, but on the Playstation 5, you do need to use the PS5 sound settings. instead, even though you'll probably want to use the GameDAC to make the most out of this headset. You can actually plug the 3.5mm cable straight into your device or your source.
EQ Settings
All control over the settings—I mentioned before that you can change the EQ settings on the station, which is such an awesome feature. So all you need to do is tap the menu button, go to audio settings, and then either swap between the presets there or create your own custom one by scrolling through each frequency range and adjusting it just the way you need it. This will always mean having to plug it into a computer every time you wish to adjust something.

If you do have access to a PC or Mac, we can make even more customizations via the SteelSeries GG app. This not only lets you edit the EQ, but you can save your settings straight into the DAC and take them back to your console. And then there's the Sonar app designed for PC gaming on Windows. Now, I don't have a gaming PC, so I'm not able to test this, but this will be the best way to play around with your sound as well as your microphone settings.
Microphone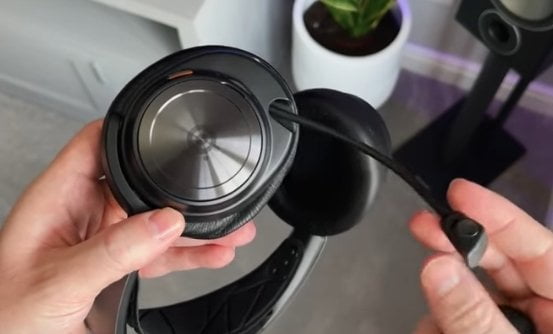 So the microphone on this is retractable, which means it can be hidden away inside the headset when it's not in use. It's pretty flexible too. so when it is fully extended, you can move it around to get it just the way that you need it. The mic supports AI-powered ClearCast Gen 2 noise canceling, which is designed to silence the background noise for that ultimate mic quality.

Now, when you're using it, you can of course mute the mic from the headset itself, but for me, that's a little bit too fiddly while you're gaming. Fortunately, there are two other ways you can mute the mic, one of which is via the station. So if you tap the circular button here, it will muffle the microphone, and if you're using it on the PlayStation 5, you can actually muffle it from the controller itself.
This is actually a massively underrated feature, as even PlayStation's own headset cannot do it this way. If you're using a headset for online gaming, you'll probably want to use the microphone for chatting as well. Well, here's a quick mic test to give you an idea of its quality.

So this is a test on the SteelSeries Arctis Nova Pro to give you an idea of what the microphone audio quality sounds like: So I've got the pop filter currently attached, and the microphone is fully extended at about two inches from my mouth. but if I remove the pop filter now, that'll give you an idea of what it sounds like without the pop filter attached. Now the microphone can actually be fully inserted back into the headset to give you an idea of what that sounds like.
Comfort and Adjustment
So this is the microphone fully inserted into the headset, and as you can hear, it's probably not worth using this way because it sounds very, very echoing. This is the microphone with the pop filter fully extended as well. I think the audio quality is okay. but it's still very tinny. When it comes to the comfort and wearing of this headset, it feels great.

They're really light, which for a headset is ideal, as you don't want to feel like you're actually wearing one. One way the headset is designed is to pretty much float on top of your head using the inner headband. There's a lot of flex here, and it is really comfy. When it comes to adjusting the height or the fit of the headset, it's really easy.
We've only got two adjustments to make: first, you can unclip the inner headband and then choose between the different holes on the side, which will change the tension of the band, and then on the side, you can simply slide the headset up or down to adjust the height.

These don't click or stop as you're moving them; they're just very firm as they slide up and down, and as you can see, these are over-ear headphones as well, so they actually fit over the top of your ears as opposed to pressing your ears against your head, and as far as a gaming headset goes, they do feel very comfy. You could easily wear these for hours during those long gaming sessions.
Accessories
Now, although these do come in a fully blacked-out design, you can actually buy different coloured plates and headbands for them. There are currently four different colours to choose from on the Steel Series website, which include cherry red, lilac, mint green, and rose quartz. Now, naturally, I would go for the all-black design, but I'll tell you what, these new colours look awesome.
Final Thoughts on Nova Pro
So what are my final thoughts on the Arctis Nova Pro? Well, I've been really impressed with just how good they sound. I've said it before, but these are the best-sounding gaming headphones I've ever used. but then again, at this price point, they kind of should be cost-wise comparable to the Arctis Nova Pro, which come in at $250 or £250, so these are not cheap, but they are comparable to the competition right now. and for the features you're getting with the on-screen controls, the EQ settings, the audio quality comfort, and even the design, it's not a bad price.

The big question is: do I recommend them, and are they a good buy?
If you're after a decent wired gaming headset that is plug-and-play and has customization at your fingertips, these really are great. I don't normally like wired headsets as it means trying to hide those wires out of sight, but for these, I'm willing to make that compromise. If you were after a wireless version, they do sell those as well, and now the wireless version does have a few extra features. as well as lacking a few features over this one, and hopefully I'll get my hands on the wireless option within the next month.