Worth to get over pricey One
EarFun Free Pro 3 has Snapdragon sound, Qualcomm AptX, 6 mics, you can get crisp audio, effective ANC, 7.5hr playback, 33hr with case as for the price $79 it really a budget in-ear earbuds that can compete pricey.
Design and Build Quality

9

Active Noise Cancelling

8
Hi, I'm Abrar, and here sharing my two-week experience with the Earfun Free Pro 3 Earbuds. These earbuds feature Snapdragon sound technology and Qualcomm aptX codec, hybrid active noise cancellation, providing up to 7.5 hours of playback with ANC off and 6 hours with ANC on. In this review, I'll discuss the design, connectivity, active noise cancellation, and battery life test of the EarFun Free Pro 3.
Unboxing and Design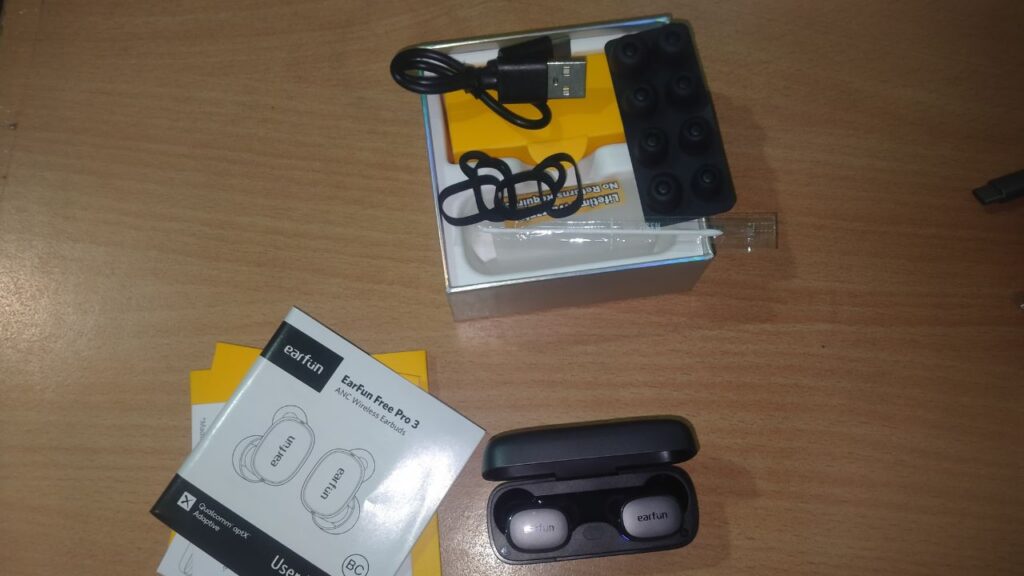 First, let's talk about the EarFun Free Pro 3 unboxing. Inside the box, you'll find the Free Pro 3 earbuds, a user manual, and a small box containing a USB-C charging cable, four different-sized ear tips, and two various-sized earbud bends for a secure fit.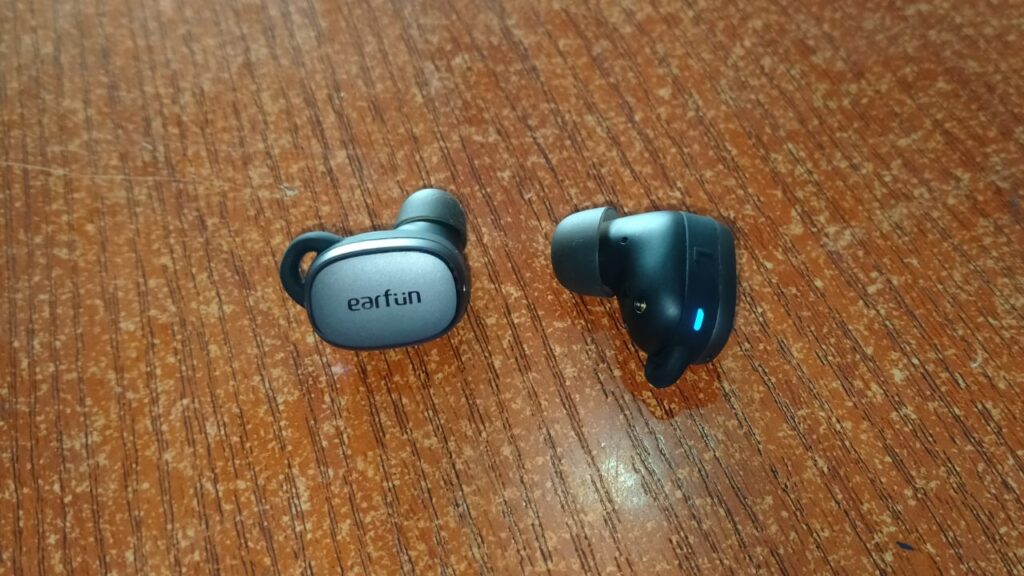 I have the EarFun Free Pro 3 in black-brown color, but it's also available in silver-white and navy blue. The build quality is solid plastic, slightly slippery, but it doesn't feel cheap. With an IPX5 rating, you can use these earbuds during workouts or runs without worrying about sweat damage, they work perfectly well. One thing worth noting is that if you use the EarFun Free Pro 3 for an extended period, the in-ear design can become uncomfortable. However, for shorter durations, it feels perfectly fine and gets the job done.
You may like this: Google Pixel Buds Pro (2023) Review
Connectivity and App Support
Pairing the Free Pro 3 is quick and easy, just open the case, and the earbuds' mini LED light indicates their status, whether they're on, off, or connected. Turn on your phone's Bluetooth, go to Bluetooth settings, and select the EarFun Free Pro 3 to establish a connection. It has Bluetooth 5.3, you can connect to two devices simultaneously in haven't notice any connectivity issue. If you're working on your laptop and want to listen to music from your phone, simply connect the earbuds, and you're good to go.
The EarFun Free Pro 3 supports an app that you can download from the PlayStore or the official website called EarFun Audio. In the EarFun Audio App, you can check the battery life of both the case and earbuds, turn on and off the ANC, and activate ambient mode. Additionally, you can enable game mode, customize touch controls, and access an Equalizer with various profiles like rock, bass boost, or reduction. You also have the ability to personalize the equalizer, featuring the Oluv Signature sound profile.
Controls and Active Noise Cancelation
| Taps | Left Buds | Right Buds |
| --- | --- | --- |
| Tap One | Volume down | Volume up |
| Tap Twice | Pause/Play | Pause/Play |
| Tap Triple | Previous track | Next track |
| Long Press | Noise Cancelling customs | Voice Assistant |
The Free Pro 3 features touch controls, and while it can be a bit challenging to change the song initially, once you find the right spot and get the hang of tapping, it works perfectly. In the EarFun Audio app, you can customize the controls for each side, whether it's the left or the right.
As for Noise Cancellation, the EarFun Free Pro 3 has Qualcomm Hybrid Active Noise Cancellation technology up to 43dB, effectively reducing external noise. I work in a busy transportation area in India, surrounded by traffic and people. Testing the EarFun Free Pro 3, it managed to eliminate around 80 percent of the noise. When listening to a podcast on Spotify in normal mode, it was distracting, but with Noise Cancellation activated, I could enjoy the podcast without any interruptions. Whether you're in a bustling area or traveling on a noisy bus, it significantly reduces unwanted noise. You can also get the voice assistant features just long press on the right buds then you can ask anything to voice assistant to do a call or play music on any platform. I would say at the price $79 it's truly a budget in-ear earbuds that compete some pricey buds.
Audio Quality and Mic
Regarding audio quality, the EarFun Free Pro 3 features 7mm dual dynamic drivers with Snapdragon Sound and supports the Qualcomm aptX adaptive Bluetooth codec. I tested various music genres, and it didn't disappoint. I experienced high good bass, trable, crisp, and clear audio at full volume no jitter or distorted sound. It felt like I was immersed in the song, showcasing the promising audio quality of the EarFun Free Pro 3.
In terms of the microphone, the EarFun Free Pro 3 has 6 mics with ENC support, ensuring clear voice during calls. Even in noisy environments, communication remains hassle-free, allowing you to talk without interference and get the job done effectively.
Battery Life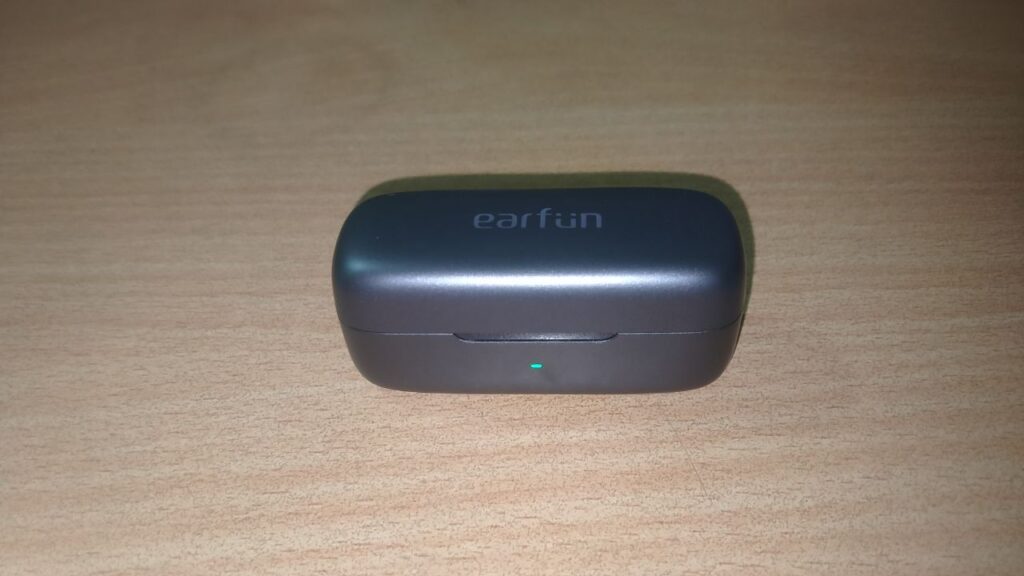 Concerning the battery life of the EarFun Free Pro 3, in my testing, I experienced up to 3 hours of playback with ANC off and 2.5 hours with ANC on, from 100% to 70%. EarFun's claim of 7.5 hours of playback seems accurate, and with the case, you can achieve a total of 33 hours of playback.
The case is compact, fitting easily into a jeans pocket without any extra bulk. It's made of plastic and features a mini LED indicating the case's battery status—green for 100% to 30%, yellow for 30% to 10%, and red for below 10% battery life. To charge it, you can use the USB Type-C cable included in the box. Additionally, the EarFun Free Pro 3 supports wireless charging, making it a nice at this price point.
My Final Thought
After using the EarFun Free Pro 3 for two weeks, I had a really good experience. It boasts Snapdragon sound, Qualcomm AptX adaptive codec, and 6 mics with ENC. The sound quality is excellent—clear and crisp with no distortion. The Active Noise Cancellation works effectively. With up to 7.5 hours of playback and 33 hours with the case, plus wireless charging support, it offers a compelling package.
However, I did notice a drawback with the touch controls; they felt unresponsive or delayed. Despite this, at a price of $79, the EarFun Free Pro 3 stands out as a budget-friendly option for in-ear earbuds. If you're looking for similar features, good sound quality, and battery life in true wireless earbuds, then read the Earfun Air Pro 3 review.