f you are considering purchasing a 12th generation laptop, the performance and price-to-performance ratio are not issues to be concerned about. For $899, you receive a GEN 4 SSD and an i5 12th generation processor, both of which offer excellent multicore and single-core performance.
User Ratings (

1

Votes)

7
In this article, we will be reviewing the Acer Nitro 5 2022 with Intel i5 12500H and RTX 3050. Here, we will discuss the design, battery life, ports, display, specifications, and conduct some quick game tests to assess its gaming performance.
You May Like: MSI GF63 Review Cheapest TRX 4050 Gaming Laptop
Note: If you make a purchase using our link, we earn a commission through the Amazon affiliate program.
Acer Nitro 5 Unboxing
Inside Nitro 5 box in black color, and inside it, you will find our laptop. It comes with excellent safety measures to ensure it doesn't get damaged during transit. Additionally, there is some paperwork, including a power cord, a 180W power adapter, and a hard drive enclosure. The enclosure allows you to install an HDD in the laptop in the future, providing additional storage options.
Acer Nitro 5 Design
The Acer Nitro 5 has come with an amazing upgrade. The top lid of the Nitro used to look weird before, but now they have added a gaming-inspired design. Upon first glance, the blue and red color patterns are impressive.
Acer Nitro 5 Specifications & Upgrade Options
In the Acer Nitro 5 with the i7 12500H, which comes with 12 cores and 16 threads. It consists of 4P cores and 8E cores, along with an RTX 3050 with a 95W TGP. The laptop comes with 8 GB of 3200Mhz DDR4 RAM, which can be upgraded to a maximum of 32 GB. Furthermore, it offers a 512 GB GEN 4 PCIe SSD with read and write speeds displayed on the screen. The GEN 4 SSD provides excellent speed, and an enclosure for installation was included in the box. According to Acer's website, the laptop supports a maximum of 1 TB HDD with 5400 RPM, although I believe a 7200 RPM HDD should also work. It is advisable for buyers to consult customer care or consider upgrading the hardware.
Regarding the SSD, it can be upgraded to a maximum of 1 TB. Unfortunately, I am not permitted to perform a disassembly to confirm the number of slots available. Previously, stickers indicated the presence of two SSD slots, but this time there is no mention. Hence, it is likely that there is only one slot available for upgrading to a 1 TB "GEN 4" SSD, which is still a positive feature.
Moving on to connectivity, the laptop supports WiFi 6 and Bluetooth version 5.2. As for the other variants, the i7 with 3050 Ti is presently mentioned as only two on the Acer website. The rest, including the 3060 and 3070 Ti, will be available later. I will endeavor to review them when they are released, but I urge you to subscribe for updates.
Now, let's discuss some drawbacks. I had anticipated a 4800 Mhz clock speed RAM, but unfortunately, this model comes with 3200 Mhz RAM. Despite this, the price of $899 seems reasonable for a 12th generation laptop with a 3050 of 95W TGP. The i7 variant, which comes with 16 GB RAM, offers improved performance but also carries a higher price tag of $1000.
Acer Nitro 5 Build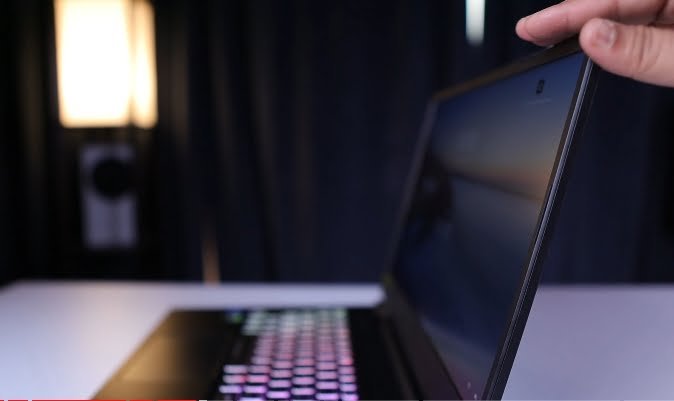 Starting with the build and design, the top lid of the Acer Nitro 5 is made of plastic, and the level of flex remains the same as other Nitro models. It seems that there hasn't been any improvement in terms of build quality; it remains the same, with only changes made to the appearance. The build of the Nitro is not exceptionally poor, nor is it outstanding. It can be considered average and satisfactory considering its price range. The interior of the laptop is also made of plastic, and the keyboard flex is minimal. On the top, there are vents for airflow, and the rear design has been altered. The laptop features various ports and additional vents. The bottom of the laptop also has vents, contributing to its gaming aesthetics. In terms of build, there is some degree of wobbling, indicating that it is neither very stable nor excessively loose.
Acer Nitro 5 Ports
On the left side, you will find an RJ45 LAN port, 1 USB 3.2 GEN 1 Type-A port, and a headphone/mic jack combo. Moving to the right side, there are 2 USB 3.2 GEN 2 Type-A ports, one of which supports power-off charging. Power-off charging allows your phone to charge even when the laptop is switched off, providing a continuous charging output. On the back of the laptop, there is a power input port and 1 USB Type-C port, which is a 3.2 GEN 2 port. Additionally, the USB Type-C port serves as a thunderbolt 4 port, offering display output capabilities. It is worth mentioning that this laptop supports Thunderbolt 4 due to its Intel 12th generation processor. Furthermore, an HDMI 2.1 port is also present.
Acer Nitro 5 Display
Acer Nitro 5 laptop is priced at $899, and Nitro has made improvements to the display this time. Before delving into the details, let me first provide you with the specifications. It features a 15.6-inch FHD IPS antiglare display with a refresh rate of 144Hz. However, the color gamut is not specified on either Acer's website or Amazon. From my observation, it seemed slightly better than the standard 45% NTSC. In the previous year, displays typically had a 45% NTSC color gamut. Additionally, the brightness exceeds 250 Nits. Now, let me explain the reason behind the improved display.
I compared it side by side with the Asus TUF laptop, and the Nitro's display appeared brighter and more contrasty. You can see for yourself by looking at the same scene displayed on both laptops. Consequently, Nitro's display surpasses that of a basic laptop. Moreover, the viewing angles are also good due to the implementation of an IPS display.
Acer Nitro 5 Keyboard And Trackpad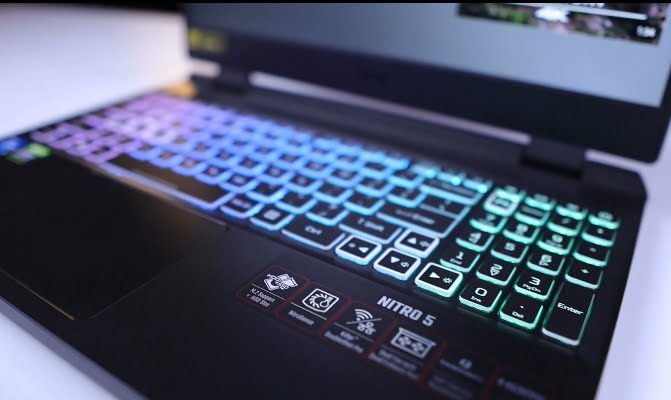 In the Acer Nitro 5, we have a 4-zone RGB keyboard that can be customized using the Nitro Sense software. The trackpad is slightly smaller in size, but it is fully clickable. However, I did not encounter any issues while using it.
Acer Nitro Speaker, Mic And Camera
Acer hasn't made any improvements to the speakers either. The laptop still features the same two 2W speakers that are downward firing. The sound quality is very basic, and there isn't much to say about the bass and treble performance.
Moving on to the mic and webcam test, the laptop is equipped with a 720P webcam. It appears to be slightly improved compared to the previous version. The colors captured by the webcam seem more natural, although they do have a pastel effect. Overall, the webcam should suffice for general use. As for the microphone quality and webcam performance, I invite you to share your thoughts in the comments section.
Acer Nitro 5 Battery
The laptop is equipped with a 57.5 Whr battery. During my testing, I conducted basic usage with the keyboard backlight turned off and the display brightness set to 50%. Additionally, the battery saver mode was enabled. Unfortunately, I only obtained a battery backup of 1.5 hours. Thus, in terms of battery backup, it falls short and is not considered satisfactory. Considering the capacity of the 57.5 Whr battery, such performance is expected. That concludes all the information about the laptop, and there is nothing else left to mention.
Acer Nitro 5 Benchmarks and Performance
Now let's discuss the benchmarks of the laptop. I had the opportunity to test the i5 12th generation 12500H processor. Allow me to provide you with the testing conditions. The room temperature was around 25-26 degrees Celsius, and the laptop was set to performance mode, which can be adjusted in Nitro Sense.
In the Cinebench R23 test, the multicore score achieved was 14017, while the single core score reached 1734 points. Moving on to the Geekbench 5 CPU test, the laptop obtained a multicore score of 6421 and a single core score of 1588. These scores are impressive and even surpass those of the Ryzen 7 5800H processor. Hence, if you intend to purchase a laptop for productivity tasks and editing, the i5 12500H can be an excellent choice.
In the PCMark 10 benchmark, the laptop achieved a total score of 5971. PCMark 10 assesses the laptop's performance for day-to-day usage, and a score above 5000 is considered good. With a score close to 6000, this laptop performs exceptionally well in this benchmark.
Moving on to the 3DMark Time Spy test, the laptop achieved a total score of 5544. The graphics score was 5375, which is comparable to other laptops equipped with the RTX 3050 graphics card. Additionally, the CPU score reached 6755, demonstrating the superior performance of the i5 processor. This marks a significant improvement, as i5 processors were previously considered less capable. Share your thoughts in the comments section regarding these changes.
Following that, we have the overall score of Crossmark, which is 1541. In score table, you can view the other scores. Crossmark's new test allows for comparisons with different laptops. Remember, the higher the score, the better the laptop's performance.
That covers all the details about the laptop's performance. It is well-suited for multitasking and editing tasks. However, if you are inclined towards graphics designing, I would recommend opting for the 3060 graphics card and a minimum of 16 GB of RAM. Consider upgrading the RAM to 16 GB in this laptop for improved performance.
Acer Nitro 5 Gaming Performance
I tested the usual 5-6 games and kept them consistent to facilitate easy performance comparisons across different machines. Running the games allows us to assess the performance difference based on the specifications, rather than solely focusing on FPS in a particular game.
Let's start with CS:GO, where the settings were set to high, and the room temperature remained around 26-27 degrees Celsius, as mentioned during the benchmarks. In CS:GO, I am getting approximately 100 FPS, occasionally dropping below 100. The lower FPS can be attributed to the 8 GB RAM. If the laptop had 16 GB RAM, we could have achieved FPS levels of 150-160. On the positive side, the CPU temperature remains at an acceptable level considering the room temperature.
Moving on, we tested COD Warzone with the field of view set to 100 and DLSS set to balanced. The rest of the settings can be found on the screen. Unfortunately, we are experiencing very poor FPS in Warzone, averaging around 40-50 FPS and sometimes reaching 60 FPS. The reason for this performance is the same as before. In a previous review of the TUF laptop with Ryzen 7 4800H and 3050, people achieved amazing performance after upgrading the RAM to 16 GB. There are also videos available on YouTube demonstrating this improvement. The CPU appears to be bottlenecked, indicating that purchasing the 16 GB variant would be advisable.
Now, let's move on to testing Valorant on high settings, where we expected the performance to be similar to CS:GO. Due to the RAM limitation, I am getting around 100 FPS, which is still a decent performance. Overall, the laptop's performance is satisfactory, and the thermals are also well-managed, similar to other Nitro models.
Next, we tested Forza Horizon 5 on the high preset, taking advantage of the laptop's RTX 3050. We achieved 60+ FPS, considering that Forza Horizon 5 is not particularly RAM-intensive. However, installing dual-channel RAM would provide a 10-15 FPS boost. It's worth noting that for all esports titles, having 16 GB of RAM is recommended.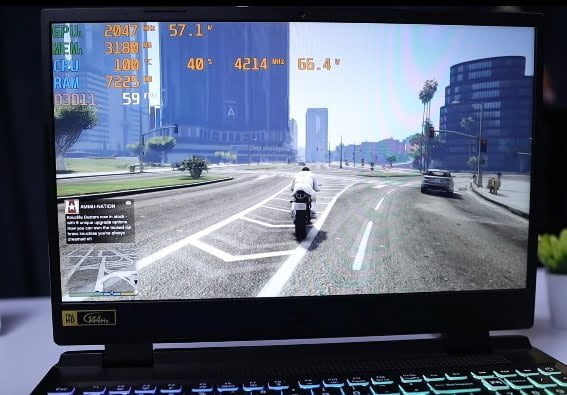 Moving on, we tested GTA V with a mixture of high and very high settings. Unfortunately, the performance was disappointing, reaching around 60 FPS, which is subpar for the capabilities of the RTX 3050. We expected at least 100 FPS on these settings. Considering this, I plan to arrange the 16 GB RAM variant and conduct another game test. Please let me know in the comments if you would like to see that.
Please note that the CPU temperatures are higher in this test due to the room temperature being around 28 degrees Celsius. If your city experiences temperatures between 28-30 degrees, you may observe slightly higher temperatures as well. However, using a cooling pad should help mitigate any potential issues.
Lastly, we tested Red Dead Redemption 2 on the 50% preset, with the remaining settings displayed. The DLSS setting was set to auto, and we anticipated around 50 FPS. With 16 GB of RAM, the FPS would have exceeded 60. Therefore, for optimal gaming performance, it is highly recommended to purchase the i5 variant with 16 GB RAM. If you have a higher budget, the i7 variant with a 3050 Ti would provide even better performance.
The laptop's gaming performance has been thoroughly reviewed, and it is clear that opting for the 16 GB RAM variant is a wise choice. Additionally, if your budget allows, the i7 variant with a 3050 Ti will offer an even more exceptional gaming experience. That concludes our comprehensive review, and you have witnessed the game tests. Remember, 16 GB RAM is highly recommended for an optimal gaming experience.
Conclusion
If you are considering purchasing a 12th generation laptop, the performance and price-to-performance ratio are not issues to be concerned about. For $899, you receive a GEN 4 SSD and an i5 12th generation processor, both of which offer excellent multicore and single-core performance. The only factor causing any performance loss is the RAM limitation. However, I will make an effort to arrange the 16 GB RAM variant of the same laptop and conduct a game test to provide a more comprehensive review. Furthermore, if your budget allows, the i7 variant with 16 GB of RAM is worth considering.