Reviewing the Red Magic 8S Pro its gaming performance, now featuring an overclocked Leading edition of Qualcomm's Snapdragon 8 Gen 2. The Red Magic 8S Pro is one of the best-value gaming smartphones in 2023, boasting a 6000mAh battery, a brighter AMOLED screen with a hidden in-display camera, and premium specs.
Read Also: Google Pixel 6A Review
What's in the box?
so first up what do you actually get stuffed inside of this box besides the Red Magic 8S Pro well first up you get some lovely QR codes to access all of the red magic socials. you've also got yourself a Charging V adapter, a red charging cable and a rather minimalist transparent case as well to help keep your red magic 8s in good condition.
Design
The design of the Red Magic 8S Pro is an absolute slab with not a single curve in sight – a proper brick, one might say. However, despite its 6.8-inch size, the bezels surrounding the display are reasonably skinny. Changing to a lighter wallpaper makes it even more evident. The Red Magic 8S Pro is reasonably slender, making it not too uncomfortable to hold despite its hard edges and corners.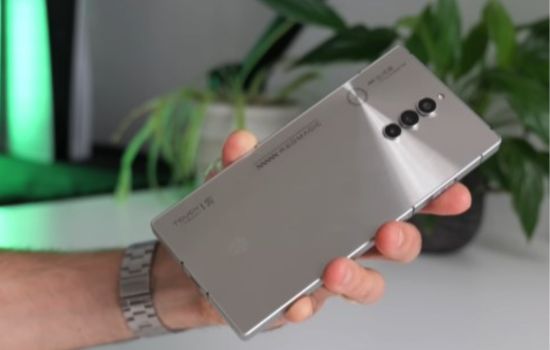 The Red Magic 8S Pro feels like a solidly constructed device with a good heft to it. It boasts an aluminum frame, and the back is made of metal as well. The device comes in three designs: black, silver, or transparent if you want to show off the internals. Although I have the regular silver model, I love the brushed metal finish as it looks sleek and not overly gamey. The phone's unique aesthetics make it stand out, reminiscent of the all-metal mobiles that were popular back in the day. However, the shiny surface does attract fingerprints, scuffs, and oily marks, especially after intense gaming sessions. The Red Magic 8S Pro features some obligatory RG shenanigans, but compared to other gaming smartphones, the lights inside the vent are quite subtle and barely noticeable unless you're in a dark room. Additionally, the little bits of text on the back can also light up, adding a nice touch.
Apart from the sturdy metal chassis, the Red Magic 8S Pro also comes with Gorilla Glass 5 protecting the display. Unfortunately, there's no IP rating for water and dust resistance, which is understandable considering the open ducts on the device.
Software and Red Magic OS
You've got running on Red Magic 8s Pro is Android 13 with a lovely Red Magic OS slapped on top, the Red Magic Launcher doesn't mess around with stock Android too much. You've still got your apps tray there to hide away all your various bits. You've got the Google Discover feed, and actually, you can drag down that notifications bar from anywhere with all your quick toggles. You will probably notice some changes to the general aesthetics of Android, however, especially when it comes to the app icons, some of which have been highly gamified. They've also got some special Red Magic game widgets you can slap on your desktops to change up the refresh rate so that you can quickly activate that coolant fan and change the coolant mode. And if you're fancy, you can basically customize every element of the Red Magic 8S Pro UI, the animations, wallpapers, the icons, that flashy glowy light strip, which, you can actually use as a notifications light. And you can even change the sound effect when the fan starts up.
Game Space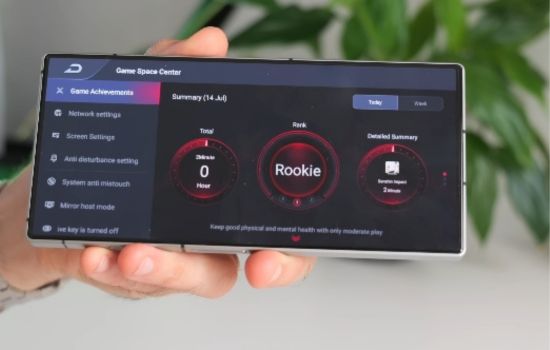 When you want to get a bit of gaming on the go, well, to flick that red switch available on the right side and get the Game Space loaded. I always hold that upside down, and the Game Space is exactly what it sounds like; it's a hub for all of your gaming shenanigans. You can quickly load any of your downloaded titles or jump into the game settings. In game space, you can also change pretty much any setting you require, right down to the ruddy wallpaper. But don't worry so much about that because you can't tweak the settings when you're actually playing a game.
Inside the Game Space, you can also have a bit of a play around with Maura; she's kind of like Red Magic's anime mascot. for instance, you can take pretend photographs with Maura and get her to do all kinds of different poses for you; that's one of my favorites.
Gaming Toolbar
When you're in the game, you can drag out the Red Magic Game toolbar at any point just by swiping like so. As you can see, in the image, it's pretty dense with all kinds of different features. You have all the standard fare like notifications blocking, which is particularly handy. You can boost the screen brightness if you want to. You can check out how the CPU and GPU lights are handling things, and yes, you can also record the action if you want to show off your mad skills at a later date. Don't forget to scroll down as well because there's even more stuff hidden away under there, and you can also toggle the performance modes as well. So, I'll stick it into a high-performance mode for games like Genshin Impact. That's basically the ultra-beefy, kind of mode. For regular stuff, you can just stick it on balance, and if you're playing something very simple like "Wordle," then just chuck it on eco.
Haptic triggers
One of the other handy settings you'll find tucked away in here is the haptic triggers. First of all, you'll have to activate these, and then just drag and drop the icons to exactly which on-screen buttons you want to map the triggers to. You've got various other options as well besides just a single tap. Now, as you can see, a quick tap on that left shoulder button and I'll perform my special attack, and then just a tap on that right shoulder button, and I perform a normal attack. Those triggers have a 520 Hertz response rate, and they work perfectly well; a quick tap and you'll instantly be spraying someone's spinal column across the nearest surface.
You get some general system haptic feedback when you tap those triggers, and the haptics, in general, are pretty good with supported games. And that screen is just as responsive, even more so, in fact, with 960 Hertz touch sampling, and you can manually tweak the sensitivity in those game settings.
Display and Audio Quality
Speaking of that display, red magic 8s pro is a 6.8-inch AMOLED panel. It has a 20:9 aspect ratio, pretty standard for a gaming smartphone, and a 2480 by 1116 pixel resolution. So even though it's big, the visuals stay nice and sharp, and it is a full-view display as well, with no notch or camera orifice to get in the way of the action when you are Genshinging. Just as with the previous generation, they've accomplished this by tucking away the selfie cam underneath the display, and they've done an incredible job because you have to boost that brightness all the way up and then squint pretty hard to see it. It's kind of like one of those classic Magic Eye paintings; you've got to stare at it for a good long while and then wonder if you're seeing something here. It's ever so slightly more noticeable if you come at it from an angle, which of course you wouldn't be when you were gaming anyway, so it doesn't really matter. I certainly didn't notice it when I was gaming or even just kicking back with some Netflix or whatever. The rest of this screen is just as great; it's bright, it's poppy, no worries if you want to get gaming outdoors, as long as you're not creeping around in subterranean tunnels or anything. If you've got the sun beaming on that screen and you're playing a quite murky game, then it can be tricky to see what's going on.
This panel also tops off at 120 hertz, not quite as fast as some rivals like the ROG Phone 7 Ultimate, which can hit 165, but to my withered old eyeballs, this will certainly do the job. It's nice and creamy smooth, so yeah, your peepers will be happy, and your lugs reasonably sore as well. You got a pair of stereo speakers here on the Red Magic 8S Pro with full DTS X Ultra support. Ramp up that volume, and it's pretty beefy powerful audio, although the clarity isn't fantastic. You get a reasonably good stereo speaker experience, even though the speakers aren't actually blasting directly at your face. But if you're serious about getting a really good stereo effect in order to survive a little bit longer in Call of Duty or whatever, you've got options. You've got an enhanced headphone jack up top here, not particularly sure what's so enhanced about it; it seems to work like every other headphone jack I've ever used. And you've also got Bluetooth 5.3 wireless streaming support as well, which did the job perfectly for headphones or speakers if you want to go that route.
Benchmark and Gaming
Now, while the original Red Magic 8S Pro and quite a lot of the other best gaming smartphones of 2023 were powered by Qualcomm's beefy Snapdragon 8 Gen 2 chipset, and it's stuffed inside the Red Magic 8S Pro, what it terms the "Leading" version of the Snapdragon 8 Gen 2. What it actually is, is just an overclocked version of the original Gen 2, very similar to what Samsung's stuffed inside its Galaxy S23 blowers. In fact, it's suspiciously similar to that S23 chipset because apparently, the clock speed for the prime core has been boosted from 3.2 to 3.36 gigahertz, while the Adreno GPU has also been given a bit of a boost up. My review model packs in a rather almighty 16 gigs of RAM, although the base model of the Red Magic 8S Pro has a mere 12 GB.
The Geekbench scores see it all; the 1731 single-core score isn't too thrilling, but the 5712 multi-core score absolutely smashes what I've seen from other HN2 phones, and yes, that includes Samsung's similarly overclocked S23 blowers, which strangely enough, doesn't seem to perform any better than a lot of other Snapdragon 8 Gen 2 handsets. So, all things considered, it's perhaps extremely unsurprising that the Red Magic 8S Pro absolutely bossed those gaming tests. I maxed out all of the graphics settings on Genshin Impact and even saw I experienced a beautifully stable frame rate throughout; not a single stumble. And that is, of course, with the performance mode set to maximum within those gaming settings.
ICE Cooling
If the Red Magic 8S Pro got hotter than the insides of a freshly microwaved Ginster's pasty when you actually did any bloody gaming on it, but thankfully, Nubia has upgraded the coolant system here to Ice 12.0. A fresh new duct structure and a graphene layer hidden away underneath the display help keep performance cooler when the phone is charging. Otherwise, it's pretty much the same system as before, with an internal fan that can hit 20,000 RPM, complete with input and output vents. Plus, you've got yourself a massive vapor chamber, copper shenanigans, etc., etc. And yeah, the back end of the phone does still get slightly warm when you boost those Genshin graphics settings to the maximum levels and play for a good hour or two, but we're talking just ever so slightly toasty, certainly nothing that's going to trouble the performance or cause any throttling. That fan is pretty quiet as well. You can only really notice it when there's no ambient noise and you turn the volume of the phone all the way down. It is whisper quiet, compared with some of the fan action I've heard in gaming phones from back in the day. The only time I can picture this ever disturbing anyone is if you're lying in bed next to a very light sleeper, you're doing a bit of gaming, and they're just like, What is that white noise in the background?
Battery life
Now, onto battery life. Just like the previous model, the Red Magic 8S Pro sports a massive 6,000 milliamp-hour capacity battery. The good news is, if you've got an afternoon to kill with non-stop Genshin Impact action, even on the maximum performance settings, you'll get around four to five hours of continuous play before the fully charged Red Magic 8S Pro finally falls on its ass. It's very similar to what I saw from the Red Magic 8S Pro. And of course, if you want to play something that's not quite as intensive, like Call of Duty or PUBG, you'll get hours and hours of extra gameplay, no worries. I wouldn't recommend charging the Red Magic 8S Pro while you are trying to play something like Genshin Impact, though. With the likes of Call of Duty or PUBG, again, it wouldn't be quite so bad because you don't need it on the maxed-out performance setting. Unfortunately, however, it does have a bottom-mounted USB port; there's no edge-mounted USB charging like there is on something like the ROG Phone. So, if you're going to be charging and gaming at the same time, you'll have to awkwardly position your hands so that the cable can stick out.
And if you want some more specs, well, I've got some more specs for you. You've got 256 gigs or 512 gigs of UFS 4.0 storage, but not expandable via micro SD, so you've only got space for a couple of SIMs in that SIM tray.
Red magic 8S Pro Cameras
As for the camera tech, well, you've got a triple-lens setup headed up, as before, by a 50-megapixel Samsung GN5 sensor. The camera app is exactly as before; you get a full-on pro mode if you do want to tinker around with the settings and shoot in raw format. Otherwise, you've got the usual AI shenanigans and a couple of bonus camera modes as well. There's a night mode, which takes a long exposure shot, and a bit of portrait action so you can blur the background nice and spicy. If we jump into the video modes, you can record at up to 8K resolution, thanks to that brilliant Snapdragon chipset. And finally, if we flip around to the front, you've got that in-display selfie cam. So, if you are a selfie fan, I'd say one of the downfalls of this technology is that it doesn't take the best-looking snaps in the world; the clarity is a bit hazy, to say the least. Likewise, don't expect the sharpest picture in the world when shooting a video using that selfie cam; it just tops off at full HD resolution, and everything is kind of a bit murky and stuff, which is probably just as well when you're shooting my face.
Verdict
The Red Magic 8S Pro is an absolute powerhouse, ideal for gaming all afternoon long, even if you're a bit of a Genshin addict. It boasts some very impressive tech with very few compromises, except for the fact that the cameras aren't exactly brilliant. However, let's face it, nobody's buying this thing for the cameras. You're buying it because it's an absolute power house and more affordable than the likes of the ROG Phone. Overall, it's a solid choice for gaming lovers on phone.
A Gaming Power House Phone
User Ratings (

1

Votes)

9.3